Happy Holidays are here and we want all decked up surroundings, shopping arenas, homes, and other locations to get the utmost essence of the festivities. Spreading the festive and joyful vibes is now the most feasible task through an amazing range of brand promotional banners being designed for wishing their customers and viewers. This comes out to be one of the effective and innovative ideas to spread the word loud about your brand's new product launch or activities by personalizing the graphics of the banner with festive messages and wishes for existing and new customers. Let them know about your brand's sweet gestures about the Christmas party on the cards where the customers and clients can rejoice free entry to the evening or shout out loud about the discount vouchers on every shopping they make with you. All these requirements can be met seamlessly by personalizing the business holiday banners, Christmas Party banners, and alike promotional materials at the cost-effective prices.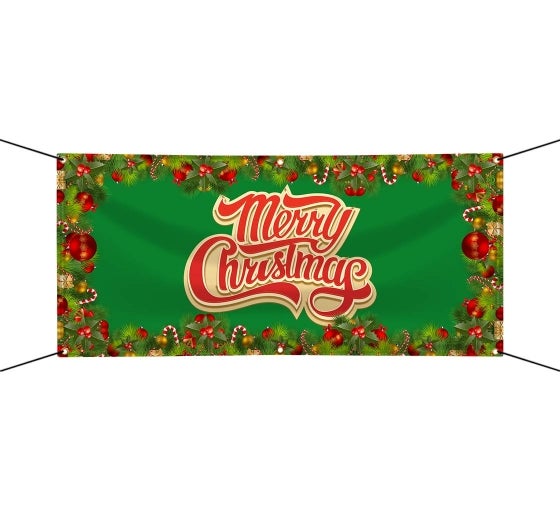 Customize the Christmas sale banners, Church Banners Online for Effective Results
Get high-quality business holiday promotional banners to let everyone know about your market presence and functional products and services. The full-fledged designed banners are perfect to bring the joy and excitement of the amazing festivals among existing and potential customers and passers-by too. This is because innovatively and creatively personalized display banners for Christmas party, Christmas Sale Banners, and other variants bring an exciting vibe and feel among all along with generating a higher level of brand recognition and recall value. At Bannerbuzz, you can rejoice the feasibility of customizing the Christmas sale banners or Christmas party banners online with the help of our online customization tool or better known as an online design studio. This comes as an efficient tool to let you try your creative skills by selecting and modifying certain designing essentials namely, size, length, typeface, clipart, width, height, and other similar dimensions.
Outdoor Christmas Banners, Personalized Banners – Mark of True Quality and Potential
Moreover, you can color up the empty canvas with your choice of graphics by suggesting or submitting the preferred content such as your favorite images, illustrations, color calibration, typeface/text, brand tagline, logo, name, and many newer pieces of content can be added to offer you the best of promotional artwork. There won't be any better option other than these purposeful marketing and promotional tools that allow you to be the master of your creativity by designing and personalizing the graphics based upon your brand's aspirations and needs. Whether you're seeking efficiently designed banners for Christmas wishes, Happy Holidays, Easter, Thanksgiving, Secret Santa Party or other amazing occasions; we have every possible product top meet more than your expectations and requirements. When it comes to performance and quality, you will be served with guaranteed satisfaction, the promise of affordable pricing, top-notch quality materials, state-of-the-art printing solutions, and lots more for Christmas church banners, outdoor Christmas banners, and so much more.